I Cry in My Head
November 19, 2008
I cry in my head.
No one knows how I feel. That lump in my throat. My eyes start to water. I cry in my head.
I cry under covers.
I pull them tight over my eyes. All I make is a whimper, because I cry in my head.
I want to talk to someone, but no one knows what I'm going through. They've never been in my situation. I want to let it out, but it stays deep inside me. No one will understand, I say. They say they will, but how do they know? No one's going through this but me.
I have no one to go to, so I cry in my head.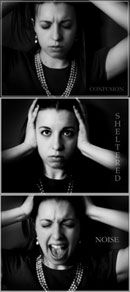 © Michelle B., Blairsville, GA