Journal of a Teenaged Diabetic
November 20, 2008
NOVEMBER 7th, 2006

I take another drink.
It's my 17th water bottle since this morning.
I almost forget to think,
as I stepped onto the scale,
and discovered I had lost another 4 pounds.

As I walked to my room,
I nearly ran into the wall.
My vision had blurred.
It was all I could do to stop a fall.

When laid down in my bed,
I prayed that God would relieve my pain.
I wanted it to be gone.
Whatever was causing me to go insane.


NOVEMBER 10th, 2006

I was awakened by my mom.
She said I was going to the doctor.
I had no energy,
so to argue? No I didn't bother.

I sat on the cold metal table,
as I awaited the news.
A tall man came in.
I knew what he had to say,
was not to be refused.

"You have diabetes."
He told me
I felt the tears well up in my bright green eyes.
And I asked him
"Am I going to die?"
"No but your life is going to change."
All I heard was my heartbeat,
I couldn't hear the rest of what he
wanted to say.


MARCH 11th, 2007

I feel the prick against my tender skin.
It's the 5th test I have done today.
The screen shows a bad 265.
What's next I hate so much that I
don't even want to say.
I reach for the needle.
Press it into my skin.
My body drinks the insulin.
I wonder if it will ever end.

I have not adjusted to my
not-so-well-known disease.
I feel so out of place.
Even in places where I once fit in.

I try to deny it,
but all I get is a higher sugar level.
I finally decide I'm not letting it get me down.
I know things will get better.


MAY 17th, 2007

Today I walk under the sun.
With 500 other people,
all our shirts saying
"Diabetes you haven't won."

Working for a cure,
is what I am committed to.
I encourage everyone to do the same.
They may be helping a teenage child,
who could claim the helplessness
I once felt.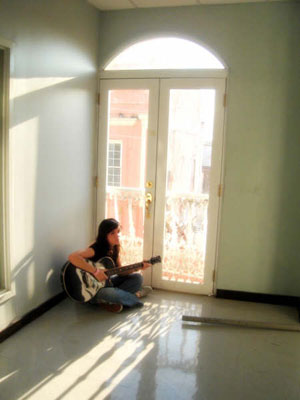 © Eveliz V., Bayamon, Puerto Rico