Silent symphony that secretly shatters me . .
June 17, 2014
The silence eats me alive, so lonely and deprived.
This hatred i hide, but myself i cannot disguise.
Each day I live, I die a little inside.
These cries and screams are muted, my thoughts executed.
Their words cut me down to size, scrutinized, it echo's in my mind, leaving me blind to the world as i unwind.
Like a ticking time-bomb, my feeling explode inside!
Just as quickly as all came i bottle them up, and eject them. Leaving me hollow to their shallow thoughts, all absurd.
I drown in my sorrows, this sea of depression.
Neck deep in misery and regret, and yet I wait.
I hold my last breathe as it drags me down, all thoughts twirl around.
Twisting and squeezing all life out of me!
Does anyone see?
Numbness fills my body whole, mind and soul.
This i cannot let go! I try to shake it off, but it lasts longer than i ever thought.
This kind of survival i've never been taught.
The more i try to fight it, the more it resists.
So i let go of my last few breaths wanting eternal rest.
I've guessed everytime I get lower, I always float to the top.
Only to go through it worse, again, and again.
This feeling's sinking in, now my only friend. . .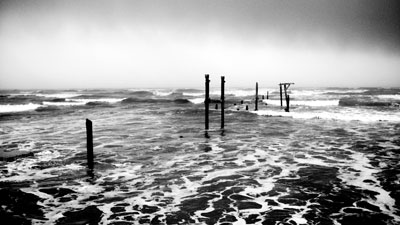 © Harrison L., Ruston, LA