My Sunset
January 4, 2009
Today is the December sunset,
It gives the impression of being a broken stain glass window,
With countless reds and blondes scattered randomly around the Sun,
And even though I feed the horses in the snow-filled pasture,
It gives me feeling of warmth.


Today is a golden-lined April sunset,
The kind where the Sun falls behind clouds,
And the clouds become leaved with its gentle glow,
While I sit on the wharf near Mother Gulls nest,
And hear squawks of her hungry chicks,
I feel cared for.


Today is the October sunset,
That brings vivid lilac clouds,
And a carroty orange horizon,
The trees skeletons against it make it seem a painting,
I ride my bike passed it thinking of all the sunsets I seen,
Well this is my sunset,
My birthday sunset,
And it makes me feel…..
Special.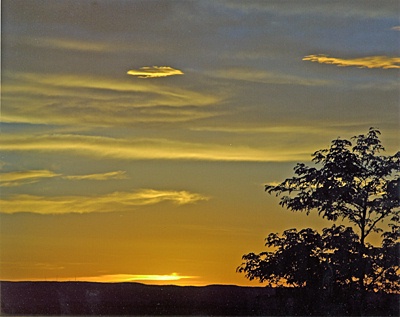 © Elizabeth B., Wichita Falls, TX