A Shadowed Soul
February 25, 2015
As Darkness would have me dead,
A spirit unborn better yet,
He compromised instead
He sent his whimsical mares
to mask my soul
And hide my heart away.
He told me of Smiles
Guarding an odd sight
Outside, deep in the bog and trees
oppressing an enemy of Darkness
An aged noumenon, Light.
I sought for this creature, Light,
with the Smile the shadows paired me with.
I traveled forests, with large eyes;
The brighter hues, I bear in mind
My Darkness veiled from me well
Those tints better left.
Concealed in the warmth of Darkness,
I remember now,
The day the latent Light came,
not I to it
Venerable, and vexed at my delay
It tried one's hand at blinding yours truly
Unseeing and typhlotic
From it's stimulants, I strayed,  
It brought no Smiles along
Claiming a danger, their songs
No murderous mares as well,
for the spurious visions they brang
It told me I must not care
Steadfast, it said,
I would soon come to be

The beating of my broken heart,
Darkness had forewarned,
is now chained and locked away
As I strain to overhear
the now dead still drumming
I try to blank every so often
following suit of  the mares
Once, I had adored
their rapid thundering
Darkness, now,
I yearn for
the dreamy nights and days
with his blissful horses
His grimaces and their odd turns.
The shadowed soul is blessed astray.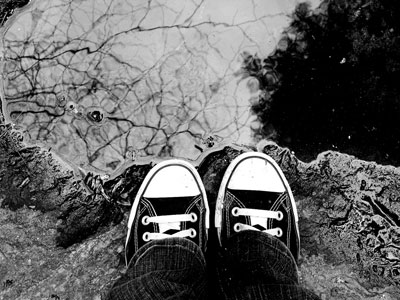 © Michelle B., Blairsville, GA