Mystery girl
March 23, 2015
You watch as she tries to get up,
Trying to recover from their fun and games.
The fear in her eyes staring back at you,
She's the opening act on stage.
Watch as she struggles,
The audience doesn't seem to mind.
Maybe you should help her?
All your fears begin to unwind
Everybody's laughing,
She must be having fun.
You watch her eyes once again,
Maybe you should tell someone.
It's too late,
The curtains begin to close,
The lights are fading,
And your thoughts begin to compose.
You want to warn her, and tell her she's so special,
That she's not alone,
That you too were once part of their show,
But her identity is left unknown.
Up next is the misfits- the clowns,
They make their way on stage.
You see sparks of uniqueness,
But with the help of the audience the sparks begin to fade.
The color that was previously filling the auditorium,
Transforms to a deep grey.
You now see her,
Her pain-like yours, forced away.
Her rosy red cheeks,
Now but a ghostly pale,
Her beautiful smile,
Lost as the result of betrayal.
She is nonetheless beautiful as before,
None less amazing,
But none less different,
Her streak of individuality is quickly breaking.
She was losing herself as an effect of their childish games,
She needed hope; she needed somebody.
You were the one she needed in a million ways.
You were the one she needed when they pushed her down,
You were the one when they said she wasn't worth it.
You were needed when her differentness was being ripped away,
Only a few words you needed to say.
But you were hiding,
Scared of what they may think.
If you had only said
What her thoughts and yours interlink.
You again watch her in the crowd,
You can't turn away from the clear pain in her eyes,
She's hurting,
As you now notice her insecurities you're mesmerized.
You watch as she tries to get up,
Trying to recover from their fun.
The fear in her eyes staring back at you,
You have to tell her she's not the only one.
She sees you coming,
Partially happy, partially scared,
Crossed arms, dazed eyes.
She thought no one cared.
You start to get closer,
Breathing much too hard,
Reaching out to touch her,
Eyes closed not to catch her off guard.
You feel something hard, cold, and flat stop your hand,
Where did she go?
You open your eyes slowly,
You see her,
Her insecurities you already know.
You see the pain in her eyes,
The scars on her wrist,
The dimples on your cheeks,
And your smile you dearly missed.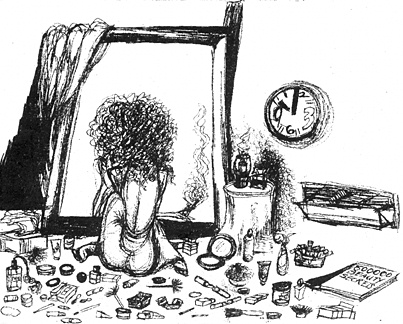 © Asha M., Philadelphia, PA