You Reap What You Sow
October 8, 2015
I don't know where
I'm going with this
But i feel maybe a little
bliss
This will be random, you will see
it won't be all about me
What is death?
Is it the woman who
takes your soul
when your head lolls?
Or is death another form of 
life
And you are Death's wife?
Where will she take you,
that dark maiden,
when you die?
Maybe to a large table with food laden
all over.
To Valhalla?
No.
Will the Reaper
take your soul to hell
where there are no sleepers?
A fiery well
may be your tomb
and you will go back to 
the womb of nonexistence.
Is it to God?
Will she take you Heaven bound
where you won't die
under the ground
But live forever?
And then there is another 
thought
When we are childern 
we are taught about
Angels
But what if Angels are 
dark
and in hell mangle
all of the 
souls lost in the haze?
Death defies rules, 
such as science
No matter how long
we sit back in defiance,
She will win.
With all of the ghouls 
from the depths of hell
Don't ask her why
for she will never tell.
As you look into her eyes
you see a pit filled 
with fire
and on the lip of the pit 
barbed wire
to keep the souls
from breaking loose
from their sentence.
the souls of the
damned
Search for repentance
but won't find it
because they are dead
and the offer has been
withdrawn by the Lamb
Your hearts are filled 
with lead
keeping you in the 
pit
your hatred keeping
the fire lit
waiting to be released
but you never will be
because you deserve
this
lack of peace 
Rot in hell
for you are deceased.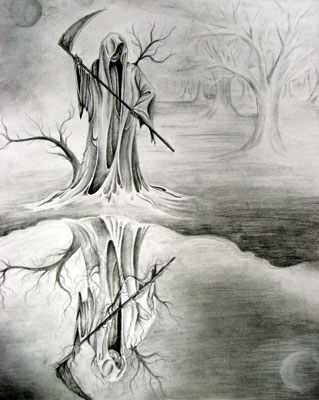 © Lacey T., Wasilla, AK