The Grass Seems a Whole Lot Whiter...
January 30, 2009
The sun comes up strong on this January morning,
Beating down on my skin.
It is warm.
Much too warm to be the midst of winter.
The cacti and shrubbery of the desert taunts me.
Reminding me that winter will never grace the perimeters of my hometown.
I will not need a coat today,
The sun will fulfill its duties.
But inside I yearn,
For cloudy days,
And gentle snowflakes.
And every night I dream,
I dream of white Christmases,
And cool summers.
Of serene nightly rains that tap my window,
Luring me to sleep.
The prickly cholla wouldn't be pleased,
If the snow came falling.
Neither would the snowbirds from the north.
The people who cannot bear to stand their winters,
So they come here.
But neither can they stand our summers,
So home they return.
Never bearing a day above seventy-five,
Or a temperature below fifty.
They get out of this place before the sun comes with a vengeance,
The summers here, well, they're not so pleasant.
For me, I get to stay
In the heat of the desert everyday.
Sure,
I can stand the hundred and ten degree days,
The AC as my best friend.
It's the only thing I've ever known.
Sure,
I've never felt a day,
When the high was under forty.
But I can imagine
The cold sprinkling of flakes,
Coating my eyelashes.
Days much to cold to go outside,
Cuddling by the fire,
Hot mug of cocoa warming my palm.
Jack Frost coating the window panes,
The frost does part,
When I gaze out the glass and my hot breath warms it.
The snow is white on the yard,
Something I have yet to see outside my dreams.
Someday,
I'll see the snow falling,
A gentle mist from overhead.
Snowmen and snowballs
Will entertain us all day long.
At home,
The warmth on my skin,
The nagging burn on the nape of my neck,
The sweat dripping from my face;
These things are constants.
Never failing to occur.
I guess the thing is,
It's hard to get the best of both worlds.
Unless you're a snowbird,
Flocking to find the perfect climate.
I guess that's how the story goes,
The grass always looks greener on the other side.
Or,
In my case,
The grass looks a whole lot whiter.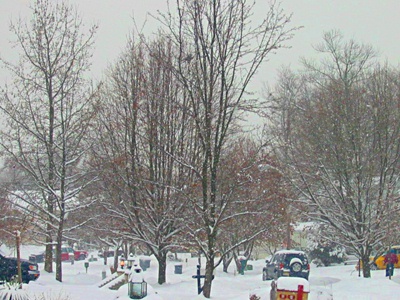 © Kristen S., Sewell, NJ