Mockingbird
December 5, 2017
Once upon a time there was a bird.
A bird that was just born, and there was.
There was a bird with blurry eyes and a heavy head, and there it was.
A bird with saggy skin and an empty stomach, there it is.
There was a bird with growing feathers in a nest made of twigs, there is.
There was the bird, a ticking bomb on time, thinking that it's breathing is a crime.
There was the bird, in the nest made of twigs with growing feathers and an empty stomach and saggy skin, the bird with a heavy head and blurry eyes, a bird was born.
And there it was.
And there it goes.
It falls out of the tree with a loud thud.
It begins to think it's life was a dud.
All over the bird aches.
Minutes pass as hours and it begins to think there is no escape.
It looks up for it's mother, but the sky is dark.
It's brothers and sisters are gone.
The ground gets cold and his head gets heavy.
His striking colors of blue and white fade into the night.
The night does not know time and how little he had lived.
He knows his body is broken but still he tries to stand.
Pain shoots up, and he goes down, there he goes.
He rests in the nest of twigs and stigs with no one else but the moon.
There it was.
And there it goes.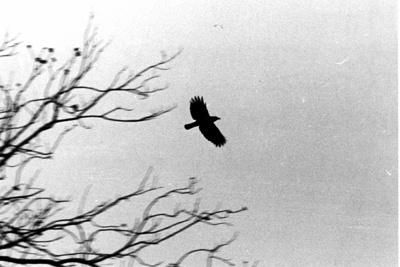 © Jacqueline T., Flowermound, TX