Time is an illusion
April 28, 2011
Time is an illusion,
A thing that people made.
No present past or future,
Only memories that fade.

A day is but a measure,
A tool we use to count.
In a never ending cycle,
Of hours that amount.

Whether darkness obscures,
In star-speckled night,
Or the warm yellow sun,
Brings brilliant light.

People created the number,
As we created the year.
Three hundred and sixty five days,
We track how its end grows near.

Time is an illusion,
For the one thing that might apply,
You cannot decide,
By the amount of seconds that have gone by.

For time is merely a term,
It cannot begin to tell
Everything that happens in between
The fateful ringing of the bell.

For a number cannot measure
Feelings, emotions, and thoughts.
All of the things that make a second,
Seem to drag or speed by are lost.

Because the things that occupy those numbers,
The things that are felt and seen,
That's what really counts
It's the things that happen in between

The things that create meaning,
Is not how quick or how long,
It is not the end result,
But rather what happens all along.

Time cannot be tracked,
Found or counted down.
It must be discovered in life,
As the cycle goes 'round.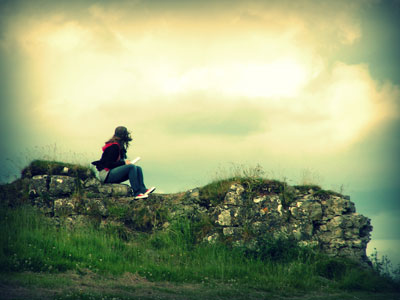 © Caroline C., Coronado, CA