Talking about Twilight
July 23, 2011
Hordes of screaming girls
at line at the movies,
their t-shirts proclaiming them
vampire groupies.
With their gothic jewelry
and glittery designs
you'd think they were bipolar,
certainly not of sound mind.

I never understood
their need to scream and cry
when the Cullens grace the screen
and in the sun sparkle, not fry.
I mean, the story's okay
and Edward's cute, I guess.
But that doesn't explain
their fan-girl distress.

What is it about Twilight,
New Moon and Eclipse,
that makes pre-teens go wild
with squeals spilling from their lips.
Is it the originality,
or maybe the action?
Or is it just the make-out sessions
in which people get satisfaction?

It's definitely not the characters,
take it from me.
If you watched like I do,
you'd certainly see.
Edward's broody and dull,
Bella's way too twitchy.
Charlie's plain oblivious,
and Rosalie's cold and witchy.

Esme and Alice seem nice enough,
though you don't see much of them.
Emmett's really the cute one,
I want more of him!
All of Bella's other friends
are two-dimensional and flat.
But I suppose it doesn't matter,
because Bella leaves them just like that.

I suppose I'll never get
this brand new Twilight craze.
I'll just sit back and watch,
as we go through this phase.
Because only soon enough,
something new will come around.
We'll be obsessing over something else,
by the time I write this down.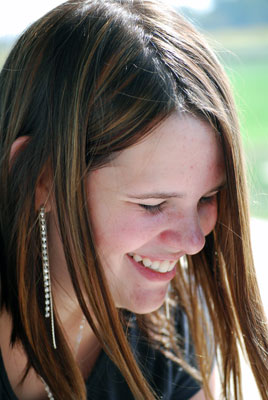 © Casey C., Zionsville, IN