Moonlit Footsteps
August 1, 2011
moonlit footsteps and lantern filled tracks,
meet me behind the old barn at midnight,
just like last night, and the first night,
and every night in between here and forever.
leave your ribbon on the fifth tree,
and i will tie my bandanna on the pole by the creek.
let the rushing waters carry your paper lanterns,
messages illuminate the secret void between us.
i packed the candles, and you brought the matches,
just so i could see the light flicker in your eyes,
or else i might get lost in the blacks of your kaleidoscopes.
keep your lips closed, speak with your feet,
let them take you here, so you can tell me all that you feel.
at the first sight of your evening gown flowing in the breeze,
i already know, beyond words,
you came, again, you love me, always.
follow the wolf's howl to me, through dark thickness,
let the owls feast on your crumbs behind you.
get lost with me in the green brush of the forbidden forest of our passion,
trace the golden leaves into the silence of our secret heart beats,
meet me behind the barn at midnight, every night.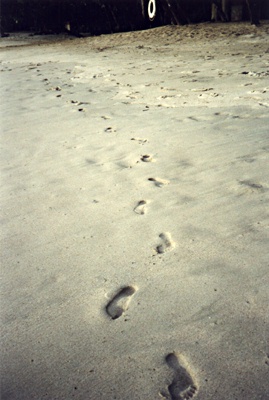 © April W., Rogersville, MO