When This is How You Feel
January 23, 2012
When you don't know where you stand with the world, and you can't get over life.
When you tell yourself nothing is ever accomplished with tears, and you don't listen.
When you're so used to unhappy endings that you don't even recognize a fairy tale anymore, even when you're at the cinema staring as Beauty kisses the beast in 3D.
When you put up walls just to see who cares enough to break them down, and everyone misunderstands.

When you wonder what it feels like to be beautiful.
When you say, "I'm fine" and people believe you.
When you sing a song meant for a special someone's ears, and they don't even notice.
When you forget to keep personal things personal.

When you fall in love with your best friend and don't know what to do about it.
When you pretend to be cold so that he hugs you and never lets you go.
When you can't find the right words, so you say nothing instead.
When his eyes are saying everything, but all the wrong things and for all the wrong reasons.

When you imagine everything you want to happen.
When you expect it to happen, but then it doesn't.
When you realize your dreams aren't reality.
When you're really tired of trying to fall asleep.

When you can't get over him.
When you give up trying.
When you forget to remember.
When you're tired of lying.

When you pretend you're over it.
When you cry.
When you're sorry.
When he lies.

When you're not cool.
When you remember.
He goes to your school.
And it's only September.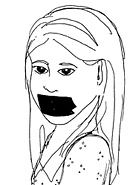 © Liza M., Vineland, NJ