Angel of death
September 26, 2014
Do ask me if the torniquet is tight,
before you make everything right.
I am in a tiny motel,
you say that the elixirs from hell,
will cure all the troubles.
A pinprick will do all the gimmicks.
Blood gushing into the syringe
I'm crossing the bridge,
Dew drops of bubbly brown,
Euphoric gravity pushing me down
But I don't drown
All I feel is the undeniable warmth
of your divine love.
All the flashing streetlights dancing
Am I in need of an aspirin?
No,no,no, it's just you and I jazzing,
dazzling ,sparkling and laughing.
All this gradually begin to languish,
Never mind, there is no anguish.
Oh! People speak  a lot about you,
some say you're true,
others say you are all blues.
Anyways, I decided to explore
the first time our eyes met
the whiff of your scent
and the times we tangoed
even though you tend to play peek-a-boo,
I fell for you.
I saw someone who cared to share,
I thought of you as extraordinaire.
I got high on you ,
High on you.
Heroin, heroin, my true heroine,
My bronze goddess, my angelic demon,
Junoesque,  queen of the bedouin.
Heroin, heroin, my true heroine.
You're mine or rather I'm yours
I've loved the recent detours
Big delicious blob of heroin
Can I devour you some more?
I need to silence my silly brainbox
Just this time,just once.
I thought I can drive up to you anytime
you made everything sublime.
But that was ages ago.
Did I hurt your ego?
I feel empty inside,
I hae nowhere to hide.
I'm thinking to ride,
To that tiny motel,
Along with a bottle of Jack Daniel's ,
Be where when I ring the doorbell.
Make love to me like last time,
Not like the hooker from Amsterdam.
A pinprick like the old times,
Feeling high ain't any crime.
Blood gushing into the syringe
I ain't crossing any b ridge
Desolation keeps pulling me down
but I don't drown
just floating like a corpse
All I see is a devilish gleam in oyur eyes
And you say goodbye.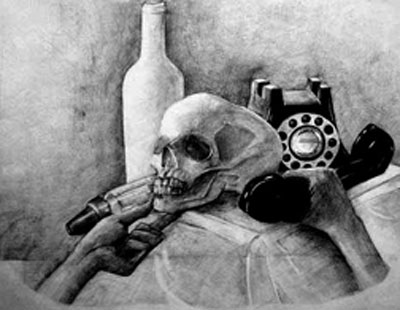 © Xiao H., Naperville, IL