The Secret Garden
March 26, 2015
She brushes a film of soil away.
Underneath is a tarnished bronze key.
She holds it to the light,
The metal shining bright,
She stows away her ancient treasure.
The wind assists in twirling vines.
Revealing intricate stone-cut entrances.
The lock glints quietly,
The key shines temptingly,
And creaking, the long-closed door opens.
Drab and brown the garden sits.
Awaiting the caressing hand of love.
Through the snow,
Green will grow,
From the hand of the youthful gardener.
The dry earth is finally turned over.
It exposes moist, rich soil teeming with life.
The snow fades,
The cloud shades,
As she coaxes movement into old hearts.
One day, a strong lad enters as well.
The yellow sun peers in the garden.
Stroking rose trees,
Scattering seeds,
The spring-time flowers are growing.
Blades and shoots of green grass leap.
The quiet breeze strokes a velvety petal.
Buds begin to unfurl,
Robin red-breast twirls,
As life breathes its way into the once cold ground.
Brought to the enchanting place is another.
This one weak, his back bent, or is it?
One foot then the second,
The moss seems to beckon,
The young one feeling, touching, breathing the grass.
The exquisite red hues of roses bloom fully at last.
Accented by the deep, leafy canopy above.
Flowers then bloom,
In the ivied room,
Below the short girl, the strong lad, and the young boy.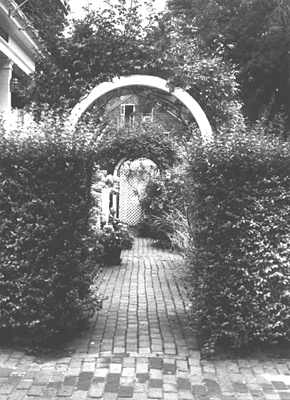 © Nicole E., McLean, VA