When The Moon Rises
September 17, 2015
When the defendant came up to the stand,
He had but one simple plea.
"When the moon rises on December twenty-ninth,
Please let them think of me."
The jury faced him solemnly.
One of them had green, crossed eyes.
The defendant knew his time was up;
She'd cut him down to size.
The judge's hard face softened
When he witnessed the defendant's tears.
He was just a young man, couldn't be thirty.
He was sentenced to fifteen years.
The heavy brass doors opened.
Everyone turned their heads.
A young woman entered, a baby in hand.
The little boy behind said, "Dad!"
The judge's heart went out.
The little boy ran to his dad.
The defendant clasped his in a great, big hug.
The police said, "Step back."
"Your honor?" questioned the child.
"What did my daddy do?"
The judge cleared his tightening throat.
This wasn't something he understood.
"Micah," called his mother.
This was not a normal court date.
The boy took no heed;
His eyes were steel as slate.
"Whatever my daddy did,
I'm not really sure why.
But I will go away for him,
So my mommy will not cry."
The judge banged his gavel.
The defendant's tears fell free.
"Fifteen years in prison;
You are sentenced, you are guilty."
"December twenty-ninth
When the moon rises,
Please don't forget me.
I will be in your surprises."
The policeman led him out.
The court was dismissed.
The judge felt relieved.
The kid felt dissed.
December twenty-ninth
when the moon rose,
A package appeared on the steps.
It held the truth that would help them grow.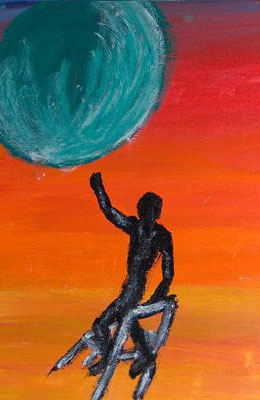 © Maegan F., Harrisburg, NC