When They Sleep
February 5, 2017
Soft; plane wrinkles stencilled in the duvet; like butterflies, gather round a wood-laden, pillow-smothered bed; where light slices across the rings of darkness, and black sticks of earth glide upwards, in white spirals as the lamp burns out; and the shutters sheath the room as a dark igloo, or a snow-flake decorated globe.                                                                                                            
Forms thud down onto the beds; square, shadow-kissed echoes, succumbing, to the sober cries of the sleepers; who hiss in their silver, pierced ears, and call a song of doom and bliss.
Subterranean, almost; within their shadowy, dreamy thoughts; the bronze light blazes out of the beige desktop: and lights their robotic, pewter fantasies to life. Night-shaded strands of hair; flutter upwards towards the bedhead; and the snowy birds outside, twitter in their hops and hum a melody of lyrics. The notes line up like paper-chains; hued with gold, as it hangs on top a cream wall; like a flower-designed crown, and the minute rubies dot around the iron edges.                                                                                                                                                                    The inflated, dome of sunset materialises in a scenery of ire-ridden colour, and green moons; and white daisies as they lie in the summer beds; and the tall glass filled to the tip with tropical juice foams and froths; like snow, onto the balloon-textured floor.                          
When they sleep, the dark thoughts within their diaries of minds; are written into the tiny jewels of the atmosphere, as the hills darken to a navy shade of slime; and the fountain-bound pens whisk in their spiral-stitched earlobes.                                                                                  
When they sleep, the indistinctness, the invisibleness with which they flicker through the daytime: all fades away and becomes immaterial; as iced snow snapping off fallen winter leaves; and the fairies in a bloody red sunset, and black, puppet-shaped stardust: that falls like bauble hats, onto their delicate, wintery; coin-coloured heads.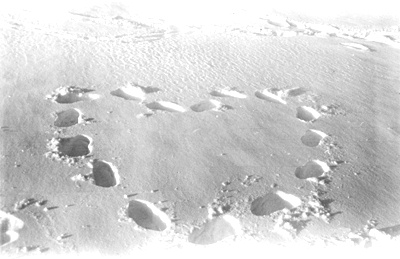 © Kim B., Marblehead, MA