Dear School
March 9, 2019
School,

You taught me to believe I would become a great person
Maybe a doctor, engineer or lawyer
You told me I was smart and I could be anything
But you stopped saying that since elementary
However, you lied to me and to everyone else
School you made everyone believe a fantasy and a title could easily be gained.
Tell me why did you decide to break so many hearts.
Sometimes Students full of passion and intelligence are told they are not good enough
As a kid, i remember being told what amazing jobs we would do and how easy it is to get there
But It's a lie when you grow up
Why did you disguise something so hideous into the best story that could exist?
Why say the world is beautiful and you can do anything you want when the reality is harsh and devastating?
Tell me why did you plant seeds of nonsense and lies
Why don't you teach us the truth?
Teach us how to survive and be independent
Teach us to pay bills and how to fix appliances
How to get a good job and a bank account
Teach us how to live through a first heart break
Teach us how to be responsible and loyal
Teach us to live and not critize
Show us how to be brave through a family crisis
Show us basic skills all humans need
Show us how to respect our different colors
Show us how to love one another
Is a person's feeling not valuable?
Isn't surviving this cruel world a number 1 skill we should Have?
But why don't we?
Why don't you school teach us this?
Explain to me how social studies will improve my family problems?
Explain to me how math will get me through anything besides a headache?
Explain how reading books will make me smarter when their lies make people believe something that isn't there
Why have you labeled our future with a number to decide if we will be successful or not?
Why have you placed numbers on us as if it means anything beside always fighting with each other to see who is better
I understand we need to be educated to get somewhere, but why not make space for what really goes on in the real world
Tell me why you told me I could do and be anything
But when I told you what I wanted to be
You closed your doors and said I wasn't good enough
You didnt teach me how to live up to reality
Instead you threw me out and expected me to learn everything quickly and on my own.
Lies from the beginning
Thats all you were.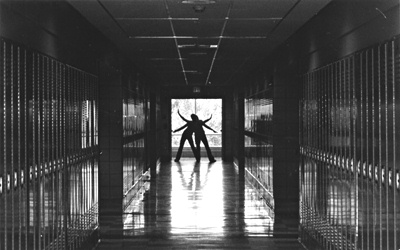 © Sheera G., Marblehead, MA