Where Am I?
October 27, 2019
This is a place
Where reality is bent.
Where time is a spiral staircase.
Where people are stars.
Where the sea is the drink which you pour.
Where your loved ones are birds.
Where thoughts are a blur.
Where love is an absence.
Where tears fall in leaves.
Where music is the only sound you've ever known.
Where the moon provides oxygen for the stars.
Where bees dance upon the sand.
Where flowers glisten in the light.
Where silence is an unknown thing.
Where space is only a concept.
Where broken minds are mended.
Where emotions are fictional.
Where noiseless waves blanket everything.
Where existence is mindless.
Where you belong with me.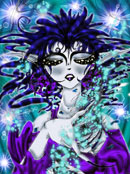 © Lena B., Olympia, WA