Darkness In The Timber Trees
May 26, 2021

(The mystical yellow aurora of life oozes out from the crack and crevices),
/of that dry and bare bark/.
(The sinister power lies untouched),
/and out of sight/,

/for it lies far below /
/its sun-dried tree skin/.
(It lives in the core),
/the pumping unemotional heart is where the evil resides/.

(Lions, Tigers, and Bears).
/oh my, what a sight to see/.
(But it's time to see)
/that this game of hide n' seek/

/is redundant and restless/.
(Like a Slinky),
/these small animals must unify themselves into their tiny burrow/,
/to a place, they call home/.
(That is their key to life).
(Leave too soon or too late),
/trying to find food or a mate/,
/they sacrifice the thing that keeps the enchanted forest alive/,
/their sacred and safeguarded lives/.

(Breaking branches, and levitating leaves),
/the bottomless pit formulates inside the deep and twisted stomach/.

(It's a trap, a soul collector), /all these animals ignite the eternal flame burning/, /within a creature of no shame/.

(It must feed and feast),
/for this foul creature/,

/comes and goes like the breeze/,

(it is the Timber Trees).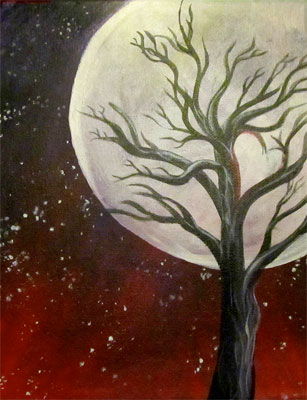 © Rebecca F., Madison, SD