Blue Day
October 9, 2009
A thousand million rainbow coloured poems
Pile up like multi-coloured bricks
In my mind, like tiny saturated pixels
Making up a much larger picture.

I can remember the space:
The spaces on the page; the
Gaps of floating nothingness
That are filled up by the
Cool breath of clouds on your skin
High up in the mountains—
Resting in the spaces of the valleys—
Jewels dropping tiny and atom-like
Frosting the vegetation.

The clouds are the colour of cool—
Soothing the prickle of heat in you hair
Taking away that substance—sunlight—
That scrunches up your heat from inside
Though it is soft, yellow; sometimes liquid
When flowing over the brow of a hill
Or solid—as when channeled through
The angular confines of the window pane.

The mist is white as the nothingness
Between the writing on the page
Whiteness made of living trees crushed
And bleached to a pulp: unrecognizable
As those lush, green, branching veins
In air that you now see surrounding you
Breeze filtered by the leaves.

The breeze now filters through clouded, milky
A celestial spill of cream dispersing through
Our liquid atmosphere, reaching out in
A thousand pale mouths to
Swallow you up—ghostly tendrils twisting
To create the prehensile forms of skeletal hands.

It thickens and subsides, fluctuating, the sun
Breaks through, illuminating the pearly dew
On everything, preserved in its splash
Of seamless pale blue, thick as periwinkle paint—

Blue. That colour is not of unhappiness
But of quite evenings,
the pure transparent ink
With which I doodle on my naked skin—
Winter,
reflections on deep water
calm thoughts—
all things contained within
the very essence of ourselves—
the colour of the soul—
the colour of the infinity that lies, colourless
behind the dome of the sky.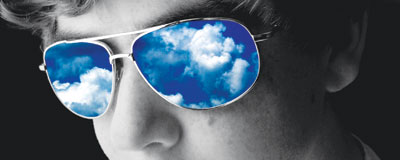 © Joseph B., Mesquite, TX