Church on Sunday
MAG
November 21, 2009
Green satin fills the center of the white cotton daisies
Held up by the iron stand, a white crinkled pot
Set against the dark mahogany of Christ
The arching bow of the roof
Two-toned orange wings of angels look ­pityingly down upon us
Framed by crimson rose skies
Sandstone pillars hold us up on high,
Creating curves and lines.
Smudges on the piano standing in front of the pulpit
Shines with oil from hands in a hurry.
Scrapes and scratches show, white on black and gray
Fluted organ pipes erupt from the walls, growing
Toward God, reaching higher and higher, feeling out
With the music they sing.
Delicately carved moldings are placed on
The Baptismal
A woman in red glares at the minister.
The sermon drones on and on, hypnotizing the dull congregation into belief.

Shadows cast by trees unseen pass slowly by
On the floor with every eternal second that ticks by on and on and on and on.
A description blooms, eucalyptus trees and sparrows
on a telephone line, ten of them diving and swooping, holding, wanting to fly, baby birds stay clutching the wire,
wanting to leap, to let go, to move on.
A scowl and a frown is glued upon the lady in red,
A mask she has formed.
Blank faces along the rest of the pews
Blue is everywhere, ties, shirts, collars, ­dresses, shoes, pencils, paper.
A poem is read but no one cares. We've all heard it before.
We are all tied together, the bell tolls for us, all as one,
ding dong
A light goes out, a spark flies, a baby wails, a cup crackles,
a pew creaks.
It's church on Sunday.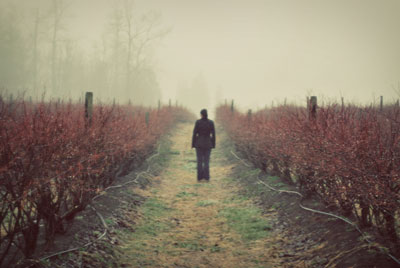 © Molly H., Lynden, WA