When Bodies Collide
December 3, 2009
Close your eyes and let the
Feeling take you as you
Get lost in the moment and
Lose your mind.
Let it tickle your soul,
Kiss your cheeks, and
Whisper in your ears just what
You wanted to hear.
Let it move your body
Back and forth,
Side to side.
As you scream with the
Sweet unexplainable feelings
Rolling around inside your head.
Down your back.
Up your arms.
Curved around your smile and
Sucked back in with every
Exhausted breath.
He breathes down your neck as
Your bodies collide.
And love is made.
Love meets passion and existence
The movement between the two of you.
Back and forth.
Side to side.
Bodies collide.
And instantly
The song is over.
No one moves.
His hands slide against
Your body one last time as
You slowly exit the dance floor.
Nothing in existence can make you
Move the way you do except
The flow of something so
Powerful.
A splash of excitement and
Exhilaration create the main
Ingredients to the one thing humans
Use to survive.
Music.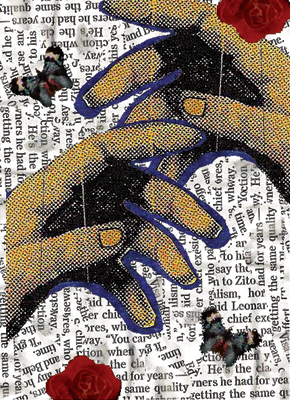 © Christine S., Arlington, VA