Life's Artist
December 9, 2009
Red flies across the page
in violent, jagged spikes
as she hears their lying words.
But red is quickly washed away
with the tidal waves of blue,
that come crashing down on her.
The blue is thick and sluggish,
she can't banish the thoughts they plant
for she fears their lying words
are perhaps not lies at all,
but the truth. Perhaps they were right.

Pink caresses the edges,
of the never-ending blue,
a warm, gentle hand stretching out,
to offer help, sighs, and cookies.
The blue is contained
to her little canvas page,
but she pulls open the door of the floodgates,
and the blue spreads out,
her slate washes clean with tears.

A new color takes its place,
a warm fuzzy orange, that jumps,
dances, spins, and whirls
across the page.
For their cutting, burning words
were no more than lies
taken too seriously.
With this realization,
comes the music, bright and quick.
She finds herself flying,
singing in joy.
This is the picture,
This is the final masterpiece
Of an artist.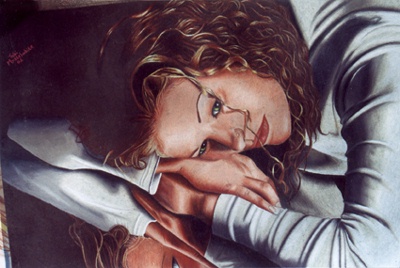 © Tabitha M., Kannapolis, NC