Thank God
December 7, 2009
I thank God
For my youth minister
he means alot to me
he has helped me through hard times
pain, resent, fear, and loneliness.
He is always there for me
and i know i can count on him.
At first I was confused as to why God would bring me to the little town of Smithdale but after meeting him i realized he knew what he was doing. And i thank god for that he knew i was needing a friend really badly so he sent me one that I will never forget! So, when ya'll get down and hurting just remember if you ask God he WILL send somebody your way!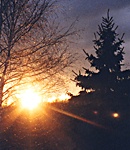 © Christy S., Germantown, NY