From a Distence (I see your smile)
December 7, 2009
dear diary,
i saw him again today.
he sat two tables away from mine
at lunch.
his head bent over his food-
two pieces of pizza,
and a bottle of gatorade,
he looked adorable.
i'm guessing
he sensed me glancing at him,
because
he peeked over his sholder
and our eyes met.
electricity jolted through my viens,
and i thought i could feel
my blush radiating from across the room,
and the faintest of smiles
played on his lips.
but then he looked away
and broke the trance,
because then-
right then-
his girlfriend came over and sat next to him.
he smiled broadly,
she laughed.
then they left,
hand in hand.

i wonder...
does he ever think about me?
or of the pencil-
i let him borrow sixth period?
does he ponder our little
heart-to-hearts,
secretly knowing
that i'm gathering "feelings" for him?
is it obvious that i like him?
does he replay our conversations
over and over
before he goes to bed at night?
no,
probably not,
he has someone else to wonder about...

what are these feelings?
why do i feel like this
whenever i see him?
(my heart starts beating faster)
whenever i see her?
(a little green monster appears)
whenever i see them together?
(i wish he would wrap his arms around ME.)

he says he loves her.

oh diary,
is this love too?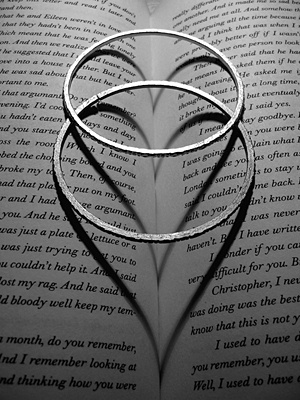 © Julia K., Old Tappan, NJ