A First Love In Seasons
January 10, 2010
Winter, and the grass has frozen over.
White snow falls like cotton at our feet.
Hand in hand, we glide atop the hills,
Feet piercing the snow like the silver blades of a sled.

Spring, and the world has dusted sleep from its eyes.
The violet flowers leave trails of silk,
The perfume of a rose hangs suspended in the air,
And together we bathe in the yellow light that falls like rain.

Summer, and the calendar's ink is fading fast.
Our sun-kissed cheeks are splattered with freckles,
And white paint is splashed across my neighbor's fence,
Like the curving sidewalks, and crystal sand.

And then comes the fall.
The earth blushes red, with orange at the tips.
Dead leaves scatter across the cold, lifeless ground.
The air is still, and my breath catches in my throat.

It feels a little something like drowning.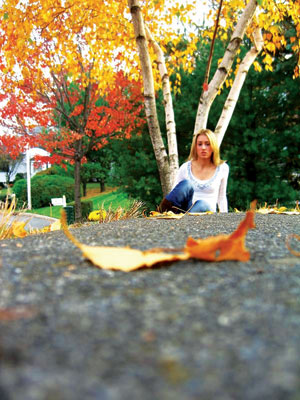 © Stephanie F., Garnerville, NY