Standing In The Rain
March 2, 2010
I'm standing here alone in the dark, and you're standing in the rain.
You call for me to come tell you what's wrong, but I just want to forget your name.
Under the trees, I'm shielded from rain, I've been soaked in tears too many times.
You expected me to once again be soaked, when my countless efforts never made you mine.
Do you realize the rain sliding down your face, are the tears that I can't seem to cry?
You want to know why I can't look at you, and you seem to care, but why?
Will my story of tears that hit the floor, make you come and take me away?
Will the pointless story of how I've been waiting, make you really love me today?
I'm not ready to put myself out, to be embarrased yet again.
My sad story that you're dying to know, will end in a broken heart from way back when.
You call for me, and grab me by the hand, forcing me into the falling tears.
Now I'm drenched in rain, my heart dripping from you, I'm forced out after so many years.
I've given you so many chances, when you were in the rain with no where to go.
But you never gave me a chance, or let me inside, I thought you'd like to know.
It was never too late to take me in, let me try to make things right.
You never saw the love I cried for you, because my tears can only be seen from a certain slant of light.
Even if my tears were in your hands, you wouldn't have seen me cry.
Through all the rain that pulled my tears, I just felt I wanted to die.
My tears form puddles you walk around, your eyes are perfectly clear.
I've finally realized that you'll never give me channce, and again, I cry a pointless tear.
You never deserved the chances I gave, but somehow I let you in.
You tried to take away all that I had, and finally I let you win.
The only smiles that I can get, are from raindrops that feel they can fly down.
You pull me towards you all the time, and then I get pushed around.
But now it's you that's in the rain, and the sun will never come.
I stopped loving you and waiting for you, and I have to say I'm done.
I'm standing here alone in the dark and you're standing in the rain.
You call for me to tell you what's wrong, but this time I let you soak in tears crying my name.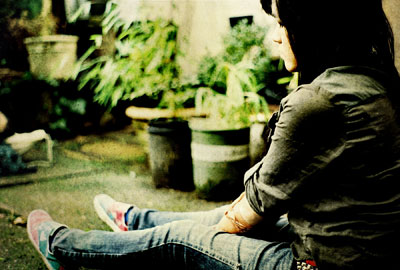 © Hailey J., Lake Oswego, OR