Does death do them part.??
March 3, 2010
I was that kid who cried at night,
Wondering would life ever be the same.
Hearing mommy and daddy argue almost every night,
Seeing them fight,
And wondering was the reason they were fighting was right.
Was I to young to understand?
That mommy couldn't take it anymore,
And had to find a new man.
When she told him she had to go,
He grabbed her throat.
While I just sat there watching it all,
Didn't even attempt to make that call.
But then daddy felt bad,
Not wanting to let mommy go,
Chasing after her,
Arguing and bickering,
Putting on another show.
But then as life went on,
My daddy grew older,
Still wanting my mommy back,
But it wasn't easy like that.
So that last night,
When I was staying at his house,
He told me "He loved me",
And I believed him,
I said, "I love you too",
Not wanting to deceive him.
But then I woke up that morning
And he was dead,
"Death Do Us Part",
Is what he said,
And I believe him.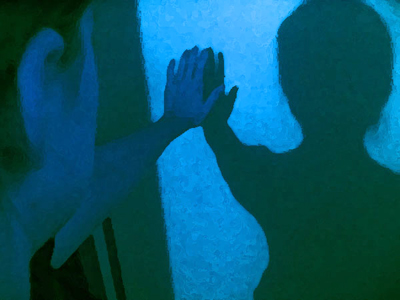 © Katie C., Libertyville, IA