Miracle or Mistake?
March 9, 2010
She stared in disbelief my friend,
as she looked at the little pink plus.
Inside her something was growing,
but this matter she couldn't discuss.

She thought of her future that would never come,
and of all the dreams she had.
"It could have all been prevented."
She thought,
if she hadn't have followed the fad.

The father was scared and wanted it gone,
but she wanted to keep the child.
She pictured it's hair, it's eyes, it's nose,
as she let her imagination run wild.

She told her parents and expected the worse,
when she showed them the pregancey test.
But instead of yelling and furious screams
they said that maybe she was blessed.

Nine months flies fast,
and soon the moment was here.
A baby girl of 7 ounces,
and then came the tears.

She stared at the creature
that took so long to come.
and almost cried out in joy
when Clarisse took her tumb.

She knew it would be father-less
and that she'd probably not have another.
Well now she knows what it feels like,
to be a 15 year old single mother.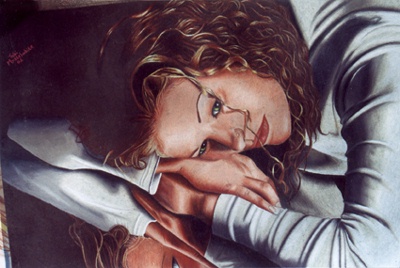 © Tabitha M., Kannapolis, NC