An Account of the Sun's Lovely Children
March 16, 2010
Let's run away to a very sunny nowhere.
Let's divide the sea
and the stars to bleed
with meaningless movement
and give light to the grassy areas
where stories are left
for us to find.

Remember when we
made albums with the exact
time our fingers touched?
When we made up new
ways to smile with our
toes and you told me that my feet were
beautiful?

You used to play with my hair.

We met where the shade complimented
your magnificent flaws.
(cameras were criminal to capture this)
You wrote this all down
and called it
Familiar Present or something like that.

We were the principles of delight at its best.

And on a Tuesday morning
you had your boxes painted
you had your shoes on
you had every page filled out with our names.

You told me not to look at clocks.

You told me, "No one will ever know the colors on your toes
if you don't walk barefoot in the dirt
for a while."

"You're nature's greatest competition."

I was told,
"I'll be seeing you in all the familiar places."

Familiar Present.
Page fifty-four.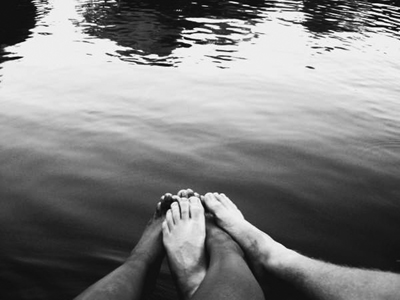 © Michelle W., Ada, MI