Photosynthesis
March 24, 2010
"Compliments"

You're infinitely childlike in a world full
of owls too drugged to give a damn.
What you need is
someone who will laugh in
November and follow trends and
color schemes. One who
lives in flowerbeds and
sleeps when they're tired.
You're the favorite color of
inanimate creatures you can
stand forever in flowers and
never get bored because you're
too in love with your own
happiness that you can't even
breathe.
You even forget to open your eyes.
You decide to listen
to this instead.


"Daisies"

As you dive deep within the snow you
realize you're awake. You're awake and
you won't dare close your eyes.

You have set foot on every neglected
pathway on the northeast of everywhere
and you've lost your shoes somewhere
along the way but I like you even
more now.

You look sick with beauty and electricity
in this light.

You must be unreal.

And yes, you love your bones
but science never interested you.
You've always believed you were made
up of
Daisies.

The flesh of your confusion
exposes questions that were
never asked
before.

It was a glorious day when
Violet was born in the crevice
of your closed lips.
And in your personal opinion
you've always enjoyed living
in other people's gardens.

I suppose that's where you get your rosy-hued lack of speech.

And as the sun colors your
cheeks you talk to your
feet in your sleep.

Days will last minutes for you
and your morning stars that you've
claimed as your daughters

And you'll keep sleeping in words until trees grow out of your toes

For the love of
Daisies.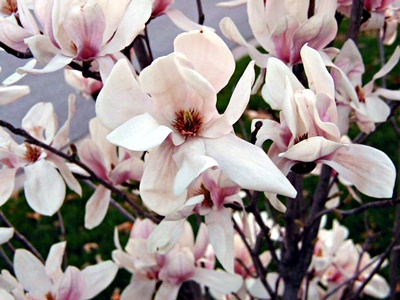 © Brad H., Lemont, IL