For the Boy Who Lived Five Steps Below Chabe's Apartment Door
March 24, 2010
We pretended we were dragons and wolves
and our tongues were fire
and our hearts were made of gold
("Brillantes, como tus aretes,")
and we ran, frantically, from the monsters
who would take our eyes away.

We'll be safer under the blankets,
you said.
Drum-beat, heart-beat, the creatures at our heels:
We rushed to the top bunk, terrified---
hid under the weight and warmth.

We believed it, as children often do.
We believed everything.
The monsters would wait outside,
yearning for our golden hearts and diamond eyes.

It must have been something about the bandaids on my knees,
or my frizzy hair,
or the way I looked so brave
that made you love me.
And you did.
A childish love that made you want a kiss.

I won't forget the warm breathing
and hearts beating
under your covers.
I won't forget your 'can I kiss you' look.

I won't forget what happened in your bed.

The monsters howled outside.
You leaned in.
And I broke your nose.

I broke it good.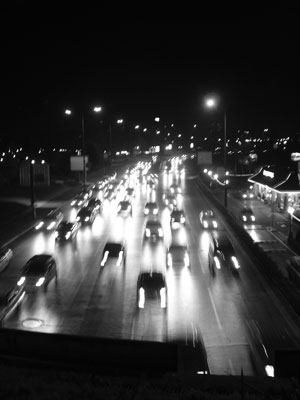 © Marietta S., Pleven, Bulgaria