To a T
March 30, 2010
I have this nasty habit of…
Sometimes, I find that I…
Often don't know what I…
Have this problem with
figuring out what comes next.
I sometimes slip
and have this history of
turning bruises into flesh wounds
rainstorms into typhoons
molehills into sand dunes
if that makes any sense at all.
I'd let nature take its course
and I'd let it bring its worst
if I wasn't so afraid of
Results: trying to play the God
I say I don't believe in.
Racing fate and making mistakes
to give me something to believe in.
Yet, the hollow of my stomach
left me nothing to believe in
But the sugar-coated swirls of smoky
serenades from stranger-folk
That it wasn't my fault,
And it never will be,
Not a tiny bit.
Not even
a little.

I have this problem with…
Often don't know what I…
Sometimes, I find that I…
Have this nasty habit of
spitting words in
nonsensical orders.
in toeing the borders
between decency
and
Textbook definitions tell me
that I'm normal,
But I sometimes don't believe
in higher education.
I can talk myself out of any situation
just by making a poor fella dizzy.
(Are you there yet?)
I often feel something like
a palindrome
or a fainting spell
or the biggest mind-bend
you've ever received.
And that's so ambiguous
and confusing
But it makes some sense to me.

And I find
that I don't know what I'm trying to say.
But I somehow hope
You're something like
a decoder pen
or a Rosetta Stone
or a microscope
Because it would be really awesome
to have something to believe in
these days.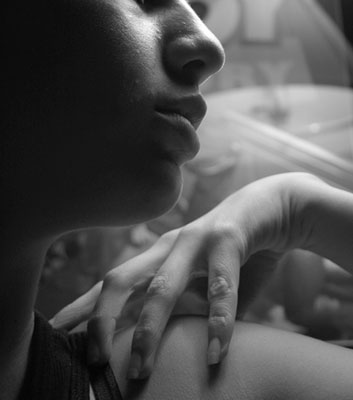 © Rebecca B., Santa Clara, CA