Listen
May 4, 2010
I was sitting,
Now somehow I'm standing up
Now somehow I'm speaking up,
Speaking out, and
I'm not giving up until you listen to what I have to say,
For I know it might not be something you want to hear
But that doesn't change the fact that I'm standing near,
And for the sheer reason that I'm facing my fears
By letting my tears flow as words~
I'd like some respect, and I will be heard.
I'm talking r-e-s-p-e-c-t,
But you don't have to find out what it means to me
Because I'll tell you;
If you're only willing to listen.
You won't need to find any hidden metaphors
Or read between the lines
As long as you remind yourself
To not even blink.
Don't think you can just sit and stare there.
To get a fair share of what I've got to say
You have to listen.

Day after day after day
I keep hearing people
Say and say and say:
You are wrong for your beliefs,
You are wrong for who you love,
You are wrong for who you worship in the heavens above.
We're so busy suggesting our own oppressing viewpoints
We stop listening to what others have to say.
We're always so busy talking
We never hear opportunity knocking at our door,
And what's more?

There are so many people in this world;
So many people needing.
Apparently we've got better things to do
Than heed the warning signs~
Can't even find the time to notice
The wounded and bleeding.
Our extravagant, preposterous, unnecessary lies
Drown their cries.
People are dying,
And still no one wants to listen or even care.
I share with you tonight not to preach,
But to teach that
Open mouths spew
Ignorant, thoughtless, hateful, straight-up stupid remarks,
Yet you expect us to hearken to the might
Of this bark with no bite?
Not tonight.
No, and my advice?
You have two ears but only one mouth,
So learn to listen twice as much as you speak.

It's been said that one day the meek
Shall inherit the earth;
On that day the world will know peace
For we will all have equal worth.
So in preparation for that day,
Why don't you minimize your ego's girth
And make way
For those with something important to say?
And I really think you'll find what you've been missin'
If you would only learn to listen.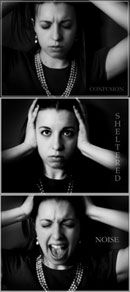 © Michelle B., Blairsville, GA