Piano Song
May 3, 2010
I open the book to a piece titled
'Serenade'
In C Major
I place my fingers on the keys
Gently, I begin to play.
It's a bit out of tune-
But who cares, really?
My eyes glide across the music, seeing
Little birds, telephone wires,
Black stars, a white night sky,
Fringes on a scarf-
Things that don't get much thought.

I hear sounds, they flood my ears,
Like water to sponge,
To sand, to an empty cup
Longing for something to hold.
The notes are soft, swift, sweet-
Kind to the soul, healing to the heart…
I watch as little birds
climb up a perfect Hill,
Getting louder, Louder with each step until-

Until they reach the dropping point
They slide slowly down, sounding like
Sound is draining from their little bird bodies
Until there is only a soft ping left,
The final fringe on the scarf is counted,
The last star disappears, the slowest bird leaves-
Slower… slower… final notes gush out…
The song is over…

I turn around on the piano bench,
And I think a thought to myself,
Metaphorically, I suppose, each and every person's
Life is just like a Piano Song.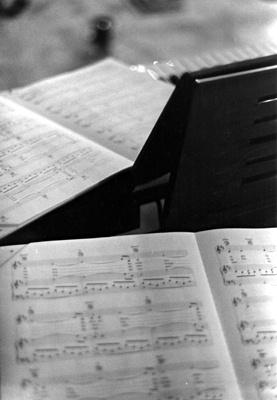 © Jessica M., Lansdale, PA