She Walked in a Frame
April 24, 2010
Once upon a time,
She walked in a frame.
A frame of which she doesn't know.
Through a wood she walked in this frame,
Searching for some unspoken beauty.
She, of light hair and laugh was searching.
Something to reflect,
Something to take,
Something to give,
As she walked in a frame through the wood.

Slower steps,
I remember her.
She was fond of slower steps.
A girl in the woods,
Could the silence speak more?
As a picture speaks in this frame.
To my heart,
To pen to paper she walks in a frame

The wood is light,
The grass is smooth.
The sun, it takes its path through a glade where she walks.
It opens up before her,
A vast of green,
A path of which she walks,
Unknowing through a frame.

She is of color,
A strange difference among the green.
This is her place yet she does not belong,
It is not her magic yet she casts the spell,
In a frame.

Her name does not fill the space of her,
Like the undesired call of something that should be
greater than what it's title has denied it of.
As the words spill out of my pen,
As she walks in a frame.

A frame,
She walks in a frame on the wall.
Forever walking, searching, and welcomed,
In a frame.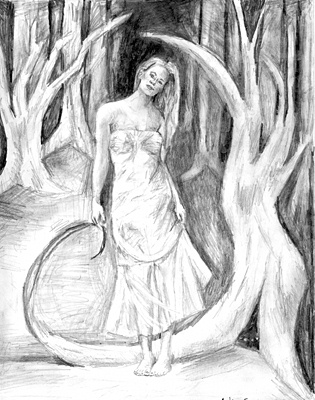 © Andrea F., Philadelphia, PA