I am From Memories
May 8, 2010
I am from pink tweezers in my purse that only I can use, and fluffy lambs that line my top shelves.
I am from the piles and piles of books that I've read three or four times each.
I am from a big black box that is know as "The time Machine that travels forward in time in the speed of real time."
I am from yellow, white, and orange daffodils that are my personal sea of gold, and the old swing I made when I was younger. I'm from the dog bones that shoot out of the lawn mower, and the huge rocks I've drug from the creak to make a path for mom to walk on.
I'm from hours of sitting at the Henson park bridge, and fighting with neighbors over their disobedient dogs.
I am from the unreliable Walmart photography center, and Petco where I find homes for furry friends.
I am from blood battles with Kiki when we were young, and from long talks with aunt Stella to help get though the bad times.
I'm from mum and Peter.
I'm from "Little Bird" and "Slantie"
From "Your lost" and "Get out"
I'm from the traditional breakfast of white rice on buttered toast and kippers, and mum's salmon patties.
I am a little rabbit that only eats fresh veggies out grandma Della's veggie garden and my memas old fata spread recipe.
I am from hundreds of tattered diaries and picture frames filled with memories.
I am from a box in the ground holding thousands of my deepest darkest secrets, and a quilt I made with a friend.
I am everything.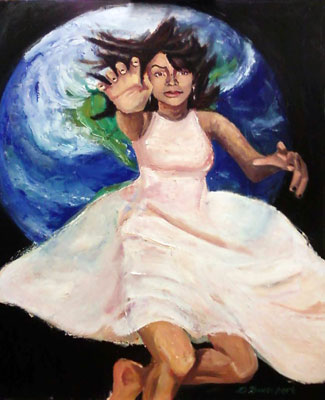 © Dominique D., Ozone Park, NY