I wonder...
May 21, 2010
I wonder how you'd feel if you knew him much I loved your spakling hazel eyes.

I wonder what you'd think if you knew how many times a day I think about you.

I wonder woud you tease me if you knew how whenever I see you my heart skips a beat.

I wonder would you laugh if I told you how I love the way you wrap your arms aronud me.

I wonder what you'd say if I revealed to you how much I truly loved the way you kissed me.

I wonder how you'd reply if I stopped beating around the bush and admit that I do kinda like you.

I wonder what would happen if you flashed you goofy smile and smile and said, "I knew you did."

I wonder would we be on your couch our on your porch when I finally decided to admit my feelings that you're always accusing me of.

I wonder if I'll ever work up the nerve to actually say, "Okay," when you ask me to be in a realationship with you.

I wonder, but for now I know that I'll never be able to tell him how I really feel. Now matter how much I love his stolen kisses and late night snuggle sessions I'll never be able to be in a real relationship with him. So, today after he gets off of work at the Boy's and Girl's Club I'll go over to his house and we'll watch t.v and laugh and joke. He'll tall me all the reasons I should be with him as this has become rooutine and I'll ignore him and the twinkle of love in his eye, even though deep in my heart I want to jump into him arms. Then sometime around 10:00 or 10:30 (9:00 on school days) he'll walk me home, even though it's only five houses away looking deep into my eyes and as he does every night he'll tell me how much I mean to him and how I should think about him tonight. I'll shrug it off with a smile and a kiss goodnight. You'll wave once and walk into the darkness with out ever looking back. I'll go into the house, close the door, and go to be. I'll keep you in my heart forever, and on my mind for always.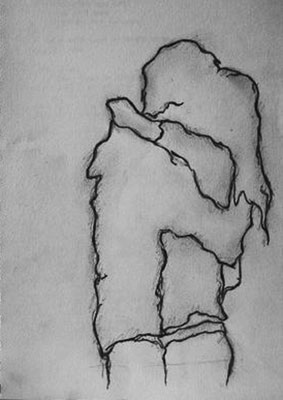 © Nicole B., Newcastle, WA