Til Death Due Us Part
May 14, 2010
You fall to your knees finally alone.
You didn't mean to do it.
The blood on your hands makes you cringe
Realizing that he's gone forever.

The cuts covering his body
And the knife protruding from his chest
Makes you scream silently
And fall to pieces inside.

You see his eyes
Open wide with frozen fear.
You crawl over to him
And slowly, gently close them.

What you don't understand is
Why you did it.
Why did you end
Such a life as his?

You lean over
And cry on his blood covered shoulder.
You were already forgetting
His ocean blue eyes.

He had a beautiful wife
That you still have to look at
Every single day in the mirror.
Yet you still wonder why.

You were hoping for a lovely little family
With this man that you loved.
His sweet caressing hands
Will haunt you till the day you die.

You stop crying to realize
That maybe today could be the day.
You pull the knife out of your lover's chest
And kiss him softly on the cheek.

You position yourself next to him.
With all the courage you have,
You bring the knife to your throat.
Before your eyes flash every minute of your life.

With thinking and without feeling,
You sink the blade into your soft flesh and pull.
With your last breath you whisper,
"Not 'til death due us part, but until death brings us together."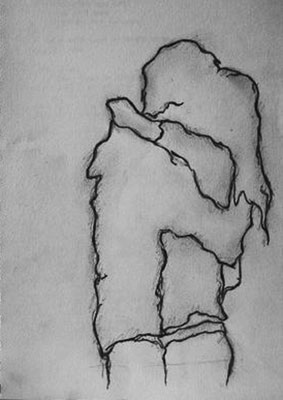 © Nicole B., Newcastle, WA