Other Room
MAG
May 30, 2010
My other room is a war zone.
It's full of things I either don't want,
Don't need, or
Simply haven't gotten the chance to toss quite yet.
You can still tell that at one point
It was beautiful, passionately
Filled from floor to ceiling
With knickknacks, trophies, and gypsy treasures.
The walls were papered with pictures, paintings, magazine clippings, and movie posters.
Chinese lanterns and homemade mobiles
Hung down from above,
And sometimes, if you listened hard enough,
You could even hear laughter reverberating off the windows.

The whole place reeked of happy memories.

This other room of mine
Was fun, fabulous, and definitely,
Definitely,
Me.

I guess in a way,
It still showcases the girl I am
As it's in shambles.
An avalanche of paper blankets the ground.
Posters, pay stubs, old essays, letters, bank statements, to-do lists, college brochures, tiny fortunes, receipts, newspapers, and half-used notebooks fill the air
With a taste of ink and graphite shavings.
I cringe at the sight of my one-of-a-kind wardrobe,
Now withered and wrinkled,
Strewn everywhere.
My poor bonsai trees and bamboo plant
Are barely clinging to life.
Dust covers every object,
Reminding me just how long it's been
Since that creative little girl
Called this place home.
Having seen enough, I leave,
Slamming the door behind me.
I'm only at the room every so often,
And even then just long enough
To unload more unwanted junk
Or dig through my dump
To find something I now desperately need.
Then it's back to my new home;
Nicer home,
With a nicer family
And a nicer space to call my own.

But here, in my nice new bed,
I can't help but wonder
What happened to the beautiful girl
Who once called that other room home?
And why have both room and girl
Been so meticulously
Torn apart?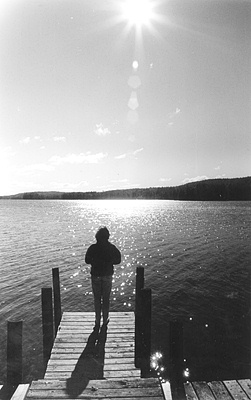 © Beth S., Marblehead, MA