A New Direction
February 27, 2010
I'm lost
And I'm stuck
But I'm alive.
And there is no worse feeling then
Being able to hear your own heartbeat
But not knowing for how much longer.

That's one thing
The doctor can't tell you.
Or maybe it's just that they won't.
Could it be?

I have been lost at sea
Or so it seems.
What with the waves crashing
Rain pummeling my head
I can no longer think straight.
Unintentional damage has been done.

I am alone.
But then again
I hear frantic little bird calls.
Far out at sea?
Could it be?
Maybe solidarity is messing with my head.

I feel destroyed
And damaged.
But I have met no violence.
Some questions have no answers
I suppose.

I hear the ripple of the water
And feel the cool breeze on my neck.
Can you possible fathom that
Being lost might be a true remedy?
I might be able to now.

I see a blinding light
On the horizon.
It seems to be opening my sealed eyes
By itself.
Could it be?

My boat is suddenly heading
Towards this horribly bright
Yet remarkably mystifying light.
Where am I going?
Will it be a good place for me?
Am I still lost?
Am I still blind?

I am heading east.
A new direction.
I open my eyes.
I look down to see my reflection in the glassy water.
I recognize my face, my eyes, my nose, and my lips.
I discovered a new direction.
I am found?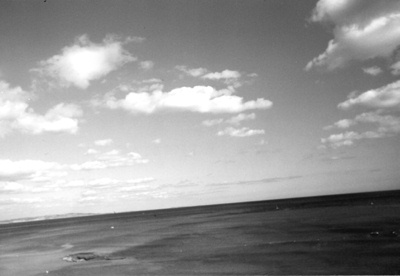 © Nikki C., Phoenix, AZ