Scrapbook Insecurities
August 5, 2010
I love my Grandpa's nose
so straight and handsome;with a point, just like mine
And also like me, it wrinkles up when he puffs his cheeks,
just so I can hear the breath blow out.
I miss my Grandma's eyes,the ones I barely knew.
The soft,warm essence that makes a kid feel cozy inside
just like hot chocolate.

I love my Grandpa's brows
still dark and thick
burrowing together as he tells me the story of that scar on his elbow
while I sit fascinated by the purple heart in my hand.
I miss my Grandma's smile,
the one that warmed her eyes,
the one that held the family together
when she brought out a lemon meringue pie
on the front porch,where the hummingbirds danced.
I love my Grandpa's laugh
so strong and deep,
as we trek through the garden to go see the beagles,
Shiloh, she is my favorite.
I miss my Grandma's voice lulling with rhythm
as she told us of Max the doberman;
her favorite rocking chair marking the tempo-
empty now, along with Grandpa's stories,
laughter and blackjack skills, once played over a silly thing like
quarters and penny candies.
Empty, like the house with the chewing gum,
and the garden with the beagles,
and the makeshift baseball field
that housed a broken down bus.

Grandpa left it there holding my memories,
like a faded scrapbook.

I left it there when I was
too afraid to tell Grandma goodbye.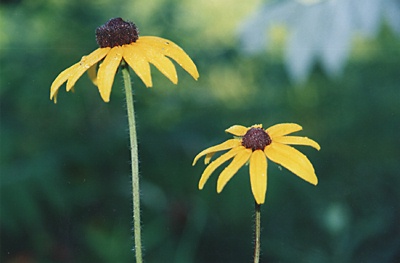 © Allison S., Eau Claire, WI