Smudged.
August 20, 2010
You've gone and smudged
Out the lipstick stains I left on the mirror.
They were words.
For you.
That I could not say.

That hung in the air
Between our heads,
Wiggling in between
Our shoulders,
That just barely touched.

And you've gone
And smudged what I needed to say,
What I couldn't choke out
In the nights that our hands tried to mingle
Underneath our starry sky.
When my head rested confidently on your shoulder.
The only part of you I felt sure about.

But look what you've done.
What does it mean?
Because I know that you've done it,
You've smudged it.
No one else uses this sink save for me and for you.
The porcelain sink that was chipped in the past.

Where we brushed our teeth, and smiled silly-like in the mirror.
Where I left the lipstick words, phrase, for you.
But I can see the shell pink sheen is now swiped on the glass,
Making my face distorted and pink
As I look for a sign you may have left.
A secret message,
All tucked away.

But I see only the smudges and distortion.
And I open the medicine cabinet,
For I need to say it again.
And I grab the shellfish pink.
And I grapple with the cap.
With the words I'm going to languish on the glass.

And your message comes spilling out.
All folded into the cap.
And the words are what I'd expect from you.
The antic though,
I'm still not sure.

But here, it says,
In scrawling blue,
"I love you, too."

Then why'd you smudge away my love?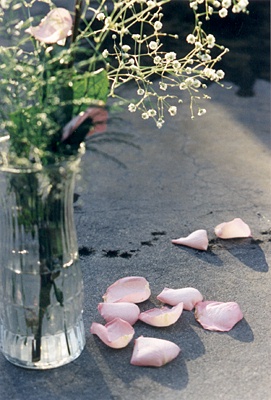 © Kathleen S., Maumee, OH