Drifting At Sea
August 28, 2010
Tornado tornado
Spinning whirling twirling hurling
Me into the wall
Again and again
Over and over and over
I'm bleeding, bleeding from the inside out
But only once in a while does it make it all the way out

What is wrong with me?
What is wrong with life?
What is wrong with this picture?
No one knows
Everyone knows
Am I the only one that doesn't know?

Falling falling fainting now into a sea of sheets
Tossing turning flip flop
Over and over and over
Glare at the clock it should be screaming an alarm
Why isn't it screaming?
Why isn't it yelling my name so I can yell back?
Why is it silent? All this silence
It is suffocating me

Sheets across my mouth and nose
So all I breathe in is fabric
Hands creeping up behind me, choking me
Suffocating! I'm suffocating!
Help, help me! Lord help me! I'm going to die!
Thrashing kicking gasping flailing
Drowning drowning drowning in salty tears
They roll down my face, dribbling between my lips onto my tongue
Taste of regret
Of pain

It burns
It burns and the darkness is so close, so tantalizing
I want to fall into it headfirst
But it won't let me

Dances round and round my head
Wispy foggy so so close
But it won't let me
Why won't it let me?
Why won't it let me?

Heaving spinning torment
Eyes squeezed closed
Tears like acid flaming through the wimsy pillow covering
Why won't it let me?

Why won't YOU let me?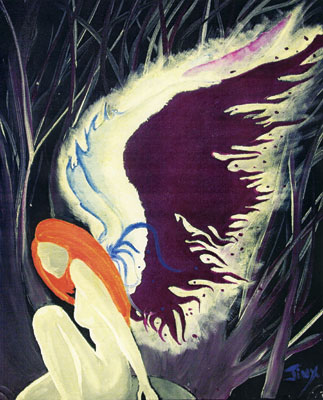 © Megan B., Youngstown, OH