Teamwork
September 17, 2010
There is something special about teamwork,
both on the field and off.
The fact that you know you have each other,
right by your side in the game and in the hallways.
You're a family; close-knit and dependable.
You back each other up,
when you need a pass,
or just to laugh about something entirely ridiculous.

On the field, you enter a zone.
A zone of determination and desire to score.
Building up inside you, that is all you can think about.
The ball, the goal, your stick,
You.
All you.
You're running and running and running
and it's just you and the ball,
you and the field,
you.

But no,
wait,
you have your teammates.
You have passes on every side of you,
screaming that they are
open!
open!
open!
that you can pass to them,
that your family is there for you to depend on.

So it's not just you against the other team,
not just you against the world.
It is you and your thirty girls
against whatever comes your way.

And now, that goal does not seem so far away,
the field does not look quite as large,
and the impossibility of scoring,
well,
it does not seem quite as impossible anymore.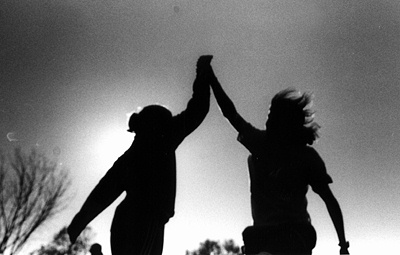 © April P., Marblehead, MA