Keep Breathing
October 8, 2010
Keep Breathing
As I look in the mirror,
I have to remind myself to keep breathing.
A girl looks back at me,
with unshed tears glistening in her eyes.

Her face is blank,
showing no emotion.
But I can see the pain,
that she's trying to hide deep inside.

Her eyes are burning,
burning a fiery hole in my soul.
My arm reaches out;
hand touching glass.
She tentatively touches her side.
The girl looks at me again
and the pain is evident in her deep brown eyes.

I watch this girls every move.
With graceful movements,
I wonder how she can possibly manage to keep her head high.
I can feel her pain
and hear her silent cries.

I feel myself being pulled inside.
Inside a world that only she knows.

I take a deep breath as I keep breathing,
entering her world.
Silence surrounds us.
And everything seems frozen in place.

Her world is filled with endless,
unknown secrets.
And this girl doesn't even care,
care about how she's gonna spend the rest of her days…
An eerie chill flows through my body
and I suddenly feel numb.

It's dark and quiet;
but there is no peace.
The pain in her world is so intense.
It's so complex
and she thinks no one else understands.
But I do;
I get it.
I can empathize with these feelings,
the feelings that are constantly raging deep inside.
I look at her with kind brown eyes.
I want to help but that wouldn't be right.

I once felt like her;
alone and living in my own little world like hers.
But I sought out help.
I realized that I AM strong.
All the missing pieces were hiding deep within my soul.
Put them all together and you've got the strong young lady that I am today.
But I believed in myself and had faith.
People can be there for you,
but only YOU can truly find out who you really are.
I put an end to all my pain.
You don't know who you are,
and people can't be there for you if you yourself don't believe.

And that is why I can't help her.
I want to;
so much.
But this is a battle,
her own personal battle that she needs to take on her own.
She needs to be ready and willing to face her problems and fight.
So I walk away,
never looking back.
But believe me,
I pray everyday that someday,
someday she'll realize that all you gotta have is faith…and believe in yourself and
the strong person,
that you can be.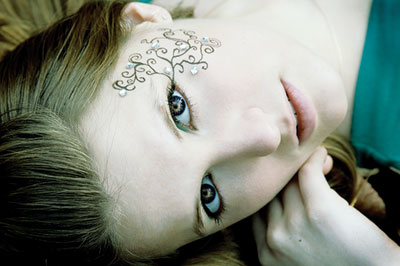 © Michelle B., Blairsville, GA