Shadows
MAG
Looking out the window of my slow-moving car,
A scene soon catches my eye.

A young girl grasps her father's hand as the slow-moving traffic carries on,
eyes filled with such admiration and hope.
There she goes running on the sidewalk,
carefree in the wind,
with pink ribbons dancing wildly in the air.
She turns and for a second I think she sees me
With round blue eyes that cut into my soul,
But she turned away faster than she even glanced
Leaving me feeling more alone than ever before.

It was there when I tried to grasp the reflection,
But it waned as a candle in the wind,
Flickering in the darkness
Dying against the strain of time.

I returned home tired and hopeless,
Reminiscing on swing sets and slides.
The sweet taste of innocence,
A time when pain was a skinned knee!

Nobody ever stops to think, This won't last forever,
No child ever imagines one day they will be an onlooker,
Hearing voices in the distance,
Seeing shadows of their past.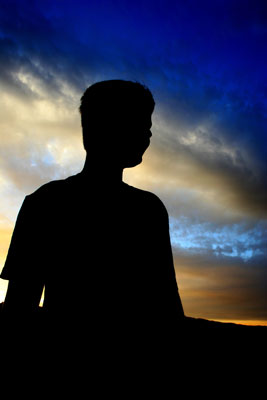 © Monica L., St. George, UT