Things of Joy
October 17, 2010
Golden rays of sun shine
On a warm crisp day.
Popcorn and a soda
At a theater Friday night.
Walking with your dog
Through a park at noon.
Simple joys in life
Through out my time.
Love and bliss and peace
It's why I don't mind living.
I thank my lucky stars each night,
And try to spread my happiness
To all that will listen!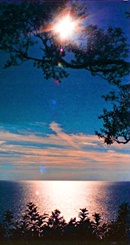 © Crystal B., Gresham, WI