A Feather on the Anvil
November 3, 2010
Explosions of rain hit this busied sill,
While the patter of atom bombs churns the earth,
A bolting feather lands by quill,
And on the gentle anvil; a pen's miraculous birth.

Those warriors of forgotten lore,
Soldiers march along the wrinkled margins,
The beauty of our cannon's gore,
No longer bound by rowdy sergeants.

And with a mind of purity and peace,
May one truly come to a tranquil oasis,
Where a feather is plucked of infertile geese,
And man finds his non-existent places.

Because a dream is only a dream's,
The simple reality of our being,
Proves we are not as it seems,
That we are not what we are seeing.

And we act upon our home as mindless vandals,
We must think; what makes us human?
Are we like gentle anvils?
Or just grow like stalks of colored cumin?

For we are split of two forms,
That of the deadly feather or harmless anvil,
Each shall weather all storms,
But that of corruption is that of man will.

As for the other? Shall I reveal?
You have seen and so can live,
Handed down with the holiest of seal,
Eternal bliss like dreams the Lord shall give.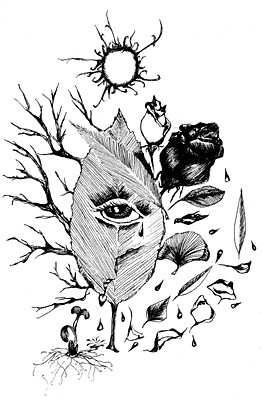 © Cara L., Cheney, WA